Clarence Pinto
Photos – Joachim D Souza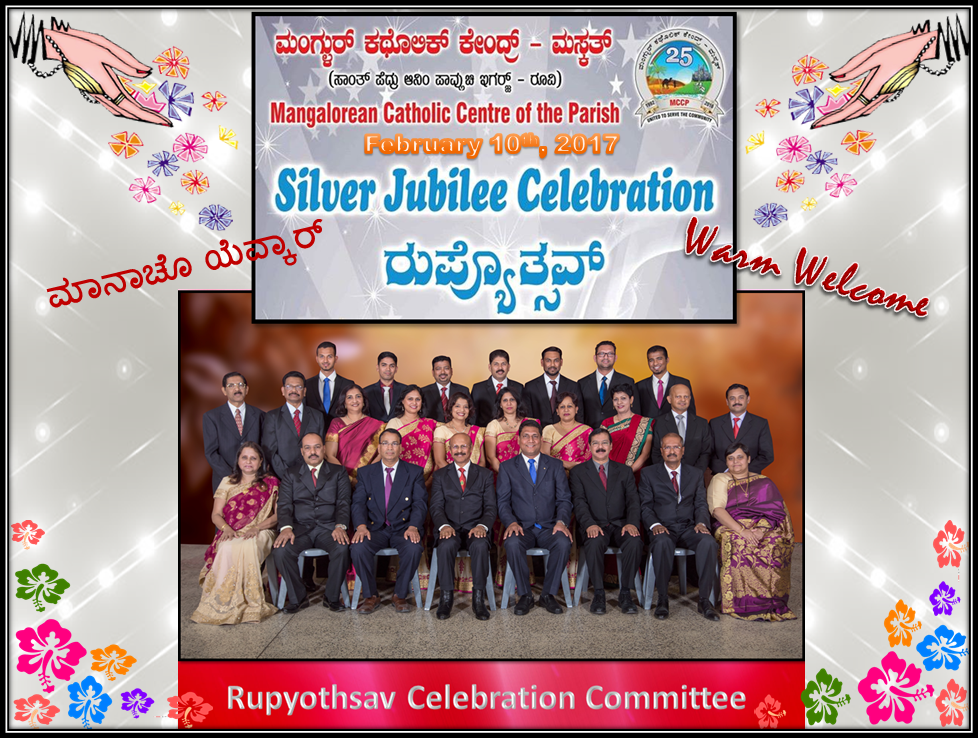 The Mangalorean Catholic Center of the Parish (MCCP Oman – Sts Peter and Paul Church, Ruwi), under the leadership of Stanley T. H. Fernandes, celebrated its Silver Jubilee with an enthralling and super hit event titled "Rupyotsav" on the Friday, 10th February 2017 in Muscat. It was a grand celebration enjoyed by everyone present in the church and hall and above all, the Charitra rock band, one of the finest rock band of the recent times, by presenting a brilliant performance on the beautifully decorated LeGrande stage, must have created a permanent image in the hearts and minds of the Mangalureans in Oman. "What a performance!!!!" exclaimed one of the audience. " I have never seen this type of magical performance in the history of MCCP. Hats off to MCCP Rupyostav team ! Millions Salutes to Charitra team!! Every member of the Charitra band group done a wonderful performance. We will remember this show for many more years to come!!!!!!"

MCCP Rupyotsav's Patron Sponsor was Ronald Colaco and family and the Platinum Sponsor was Ronald Pinto and Family – Hyssna International LLC – Abu Dhabi.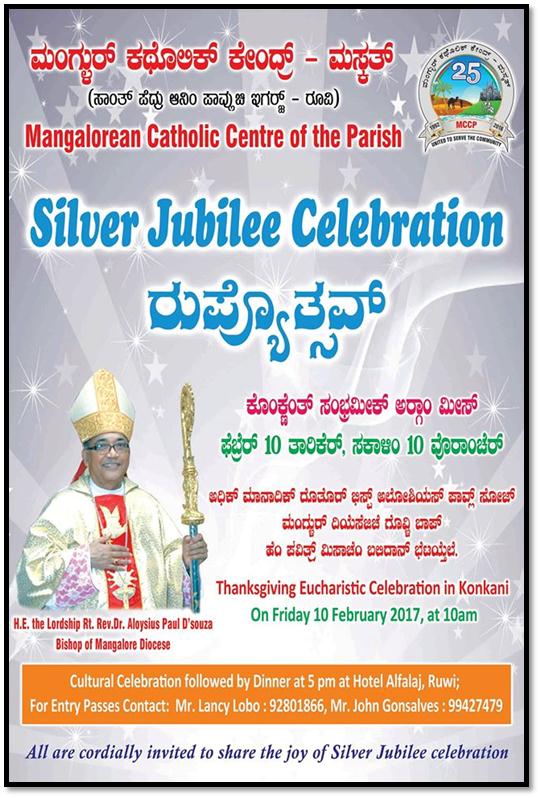 As announced earlier, the program of the Mega Silver Jubilee Celebrations commenced at 10 am with a thanks giving High Mass in Konkani by His Lordship Most Rev. Dr. Aloysius Paul D Souza, Bishop of Mangaluru Diocese at Sts. Peter & Paul Church Ruwi which was concelebrated by MCCP's past spiritual advisor, guide and mentor, Rev. Fr. Varghese Chempoly OFM Cap and Rev. Fr. Marian Miranda OFM Cap, current spiritual advisor of MCCP.

The choir under the leadership of Apolinaris D Souza, presented some of the beautiful hymns. The choir members were Valerian Peris, Dolphy Vaz, Loveline Rego, Ronald Lobo, Stany Menezes, Cyril Danthi, Prakash Dsouza, Prescilla Menezes, Victoria Soares, Nirmala Goveas, Melita Alva, Flavy Dsouza, Freeda Suares, Wilma Peris, Elizabeth Noronha, Anitha Danthi, Anitha Lobo, Amanda Lobo, Lovette Rego, Calida Machado, Sania Dsouza, Lester Lewis, Andril Lobo and Clive Danthi. As musicians, Grand Piano was played by Dale Dantis, Guitar by Master Pritham Dsouza and Violin by Sanil. Stany Suares offered a technical support and Victor Nazareth & team of ushers supported the systematic movements of the devotees.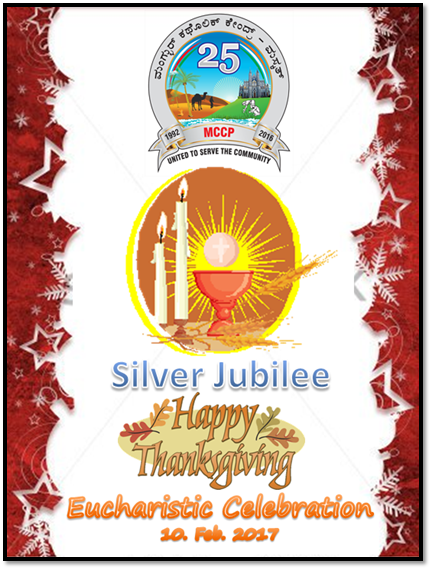 Mass readings were presented by Stanley T. H. Fernandes, Mariete Fernandes, Melita Alva, Naveen Mascarenhas, John Gonsalves and Monica Dantis. The complete arrangements of the spiritual celebrations were planned and executed by Mariete Fernandes and Prescilla Menezes.

Visuals of Holy Eucharistic Celebration
The Silver Jubilee Cultural Extravaganza was held at LeGrande Hall of Al Falaj Hotel – Ruwi which was presented by Orbit Event Management, Oman's premier event management company under the guidance of Mr Ramesh Gopalan. His Lordship Most Rev. Dr. Aloysius Paul D Souza graced the program and Mr. J. R. Lobo, MLA of Mangaluru South Constituency was the Chief Guest. Rev. Fr. Varghese Chempoly OFM Cap, Rev. Fr. Marian Miranda OFM Cap., Mr. Walter D Souza, founder of Daijiworld Media, the Editor-in-chief and Managing director of Daijiworld and known as a successful Media Mogul of South Indian region and Mr. Ronald Pinto, Managing Partner of Hyssna International LLC – Abu Dhabi were the Guests of Honor.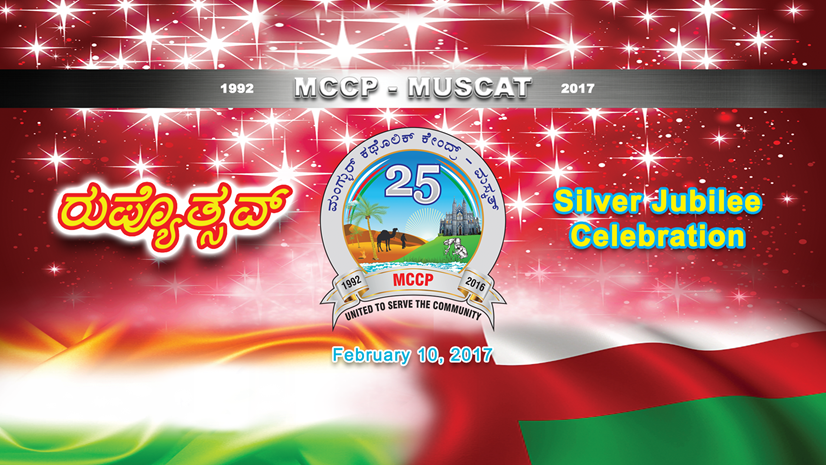 Action Behind the Screen …Getting ready!!
The Program commenced with an introduction by Lavina DSa, vice-president (Cultural, Spiritual and Community Services ) of MCCP, Konkani activist and a vibrant program anchor of the Mangalurean community in Oman. A beautiful procession depicting Indian and Omani cultures was formulated and planned by Meera Saldanha,  Gracy Barboza, Jecintha Pereira and Aslita Dsouza and presented by Tania Saldanha, Ransley D'Cunha, Francesca Colaco, Macniel d'Souza, Lizy Barboza, Tanish Saldanha, Teril & Teena Saldanha, Prakash & Latha D'Sa, Prem & Hendrita Colaco, Gloria Barboza, Johan Mathias , Cheryl D'Sa, Rayner D'Cunha, Laura D'Sa, Zephan Furtado, Naveen & Suman Mathias, Thomas & Aslita D'Souza, Sunil & Sunita Furtado which was followed by the procession of the Silver Jubilee Celebrations committee and the members were Stanley Fernandes, Henry Martis, Donald Pinto, Clarence Pinto, Suraj Rebello, Monica Dantis, Lawrence Alva, Lancy Lobo, Prescilla Menezes, John Gonsalves, Apolinaris D Souza, Dolly Gomes, Mariete Fernandes, Michael Goveas, Ajith Walder, Jessie Pereira, Lavina DSa, Melita Alva, Ashok Pinto, Tressilla Menezes, Lynel Lobo, Jason Cardoza, Naveen Mascarenhas and Sachin Lobo. The honor of carrying Indian, Oman and MCCP flags were given to Ajith Walder, Lynel Lobo and Monica Dantis respectively. Jane Castelino ably assisted the procession. At the end of the procession, the honorable dignitaries were honored with floral bouquets by the core committee members of MCCP.

Parameshawara – MCCP Anthem song which was composed by Oswald D Souza and Walter Monterio during early years of MCCP was presented by Nirmala Goveas, Ronald lobo, Victoria Soares, Prescilla Menezes, Amanda Pinto, Jane Ida Pinto, Anitha Lobo, Flavia D'Souza, Freeda Suares, Dolphy Vaz, Valerian G. Peres, Apolinaris D'Souza and Sandesh D'Souza

A Video rendition of MCCP through 25yrs was presented with a background score by Band Charitra. Video is Conceived by Prescilla Menezes, Graphics by Vijin of 4-concepts.

After a short opening prayer by Father Marian Miranda OFM Cap, a minute silence was observed as a respect to the departed souls of MCCP members and specially, to the departed soul Louis Rodrigues, founder of Gulf Voice of Mangalore.

Silver Jubilee Year's theme song titled "BHAS SOMSKRITI, GAMV AMCHI OSMITAI ZAMV" (Let Konkani language, culture and motherland be our identity) written by Wilson Kateel and music composed by Dovlin Kollalgiri was then presented by MCCP 25th team, Dilip Correa, Jessie Pereira, Lavina Dsa, Melita Alva, Ashok Pinto, Tressilla Menezes, Lynel Lobo, Jason Cardoza, Naveen Mascarenhas and Sachin Lobo with a dance performance by Nicole D Souza, Reia Correa, Calida Machado and Lovette Rego which was choreographed by Pramila Pais

Dilip Correa, MCCP president of 25th year, welcomed the audience with a traditional PaanPod Udak.
Thunderous Performance by Band Charitra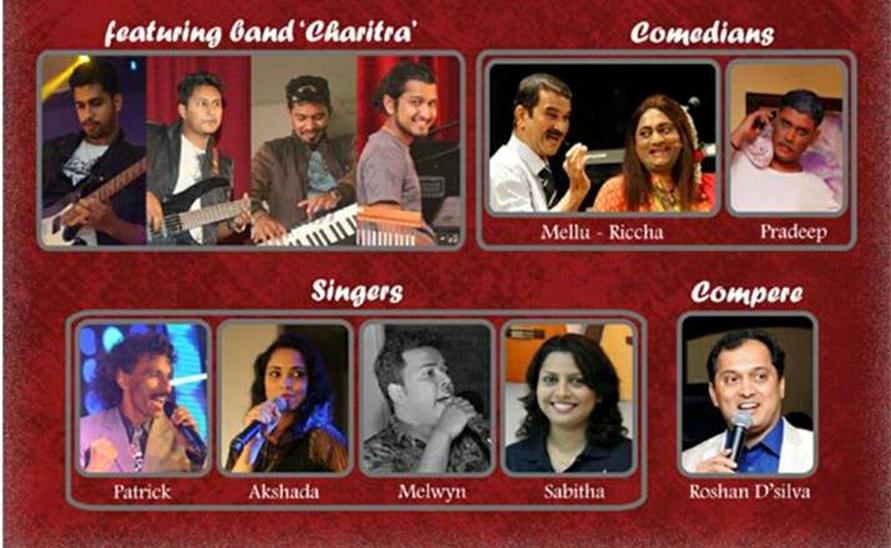 And then, it was the time to start an amazing cultural extravaganza and series of musical masterpieces. The Mangalurean Rock Band – Charitra truly created a marvelous magic on the stage for the music lovers of Oman. From the very first moment of their entry into the stage, they rocked the stage mesmerizing the crowd with their unique and magical style. The songs presented by the team were awesome and entertained everyone present in the hall. Loy Valentine Saldanha, Patson Pereira, Ian Sachin Saldanha and Rikith Leonard Soans played pivotal role in playing and presenting music with their unique style. Every moment of their presence on the stage was electrifying and entertaining.

Sabitha Mathias, a natural singer with a beautiful golden voice started the evening with a beautiful number 'puspustha'. The next entry on the stage, Patrick Pereira, who became an instant darling of the crowd when he presented Henry D Souza's legendary song Oot Oot Konkya. Melwyn Antony D'souza is regarded as the singer of par excellence and he lived up to his reputation and excellence. His performance and style were really amazing and as soon as he entered the stage, he could become the star of the evening. The songs by Ms. Akshada Talaulikar, a title winner of "the best female singer' from the prestigious global Konkani Music award, were awesome. Akshada presented some of the best songs of legendary singer Lorna and could get whole audience to applaud to her singing.

The man who really controlled and took the whole program to the sky was Roshan D Silva. Roshan with his dynamic personality and distinctive style of presentation, created multiple waves of amusement and entertainment. He, once again without any doubts, proved to be one of the best anchors in the Gulf Region.
Konkani Film actors Mellu and Richa along with Yek Aslyer Ek Na film hero and director Pradeep Barboza presented some of the finest comedy and brought laughter and amusement. All the skits were brilliant in nature and witty. They were supported by Walter Mendonca and Deepak D Souza of the Mangalurean Community in Oman.

Dances were presented by the Mangalurean community's best choreographers. Sachin Lobo under the direction of Sonia D Souza presented a dance number Ailee re Ailee by Megan D Souza and Alston Moras. The Ghaletian Rockers presented a Cuban Folk dance form which was choreographed by Priyanka Mendonca and dancers were Priyanka Mendonca, Liza Dsa, Avelen Dsouza, Rebecca Dsouza and Natasha Noronha. And final dance was by Psychadels with choreographers Dynet Fernandes and Jayal Tharakan and dancers Craig Lazarus, Dynet Fernandes, Jayal Tharakan and Joshua Tharakan.

The celebration time was held during the program and silver jubilee cake was cut by the dignitaries. Mr J. R. Lobo and His Lordship Most Rev. Dr. Aloysius Paul D Souza delivered a message to the audience and the Mangalureans in Oman. The Patron sponsor of the event Mr. Ronald Colaco had sent a message to the officials and members of MCCP which was read by Clarence Pinto.

Stanley T H Fernandes was honored by the Mangalurean community of Oman with a title 'Muscathanlem Konkani Rathn" (Konkani Pearl of Muscat). Lawrence Alva read the MaanPotr on behalf of the community and His Lordship Bishop presented to Stanley Fernandes. The dignitaries, Fr Marian Miranda, Mr. J. R. Lobo, Mr. Walter D Souza and Mr. Ronald Pinto, honored Stanley Fernandes with a Traditional shawl and peta, fruits basket, floral bouquet and traditional Omani Honey and Dates. Stanley Fernandes expressed his gratitude to the Mangalureans in Oman and dedicated his award to his family and specially, to his wife, Winnifred Fernandes.
Dabazo, Maan Samman
Alwyn Pinto, President of Mangalore Konkans Dubai and Prakash Noronha, President of MCC – Qatar honored MCCP officials with mementos.

The Patron Sponsor of the event was Ronald Colaco and family. Platinum Sponsor was Ronald Pinto and Family – Hyssna International LLC – Abu Dhabi. Silver Sponsors were Global Link West Star Shipping LLC and Bank Sohar SAOG. Bronze sponsors were Multitech Contracting LLC, Hydrotech International LLC, Muscat Pharmacy and Ivory Grand LLC. The annual platinum sponsors were Omantel and Raphael D Souza of Muscat Golden Services LLC

Souvenir titled Rupyallem Dirvem was released. Clarence Pinto, Mariete Fernandes and Prescilla Menezes, the editorial members of the Souvenir, were present on the dais.
Rupyale Dirve Smarak Pusthak
Rupyothsav Cultural - Part 4 - Rupyale Dirve Release
Raffle draw was conducted by Suraj Rebello and assisted by Jessie Pereira, Monica Dantis, John Gonsalves. The results were First Prize I phone 7 (128 GB) (Sponsored by Omantel) won by Lydia; Second Prize – Gold Coin (8gms – 22 C) (Sponsored by Sea Pearl) Rony; 3rd Air Ticket ( Muscat – Mumbai – Muscat) (Sponsored by Marmul Travel and Tours) – Ophelia Lazarus ; 4th Prize 42″ Smart LED TV (Sponsored by Sumitra Shetty – Fashion & Beauty Center) – Prashant; 5th Refrigerator (Sponsored by MCCP Core Team) – Irshad Ahmed

MCCP's Silver Jubilee Diamond Ring –(Sponsored by Cochin Gold & Diamonds) – Sharon Alva
10 Consolation Prizes – 32 inches TV (Sponsored by MCCP Team 24 ) Poojary; Panasonic convection Microwave (Sponsored by MCCP Team 19) – Edwin C. Perez; Dinner Set (Sponsored by Naranji Hirji) – Vihaan Pereira; JBL GO and Yurbuds (Sponsored by Meval Dantis) – Anish; Electric Grill (Sponsored by Naranji Hirji) – Melina Goveas; Tefal Set (Sponsored by MCCP) – Ameena; Electric Grill (Sponsored by Naranji Hirji) – Elias; Moulinex Mixer (Sponsored by MCCP ) – Veena; Dinner Set (Sponsored by MCCP) – Jessie; Electric Grill (Sponsored by Naranji Hirji) – Ramana

Raffle Draw